Mortuary and Bereavement
SOFTWARE SUITE
EDEN is the only solution created specifically for NHS Mortuaries.
Developed in collaboration with multiple Mortuary and Bereavement Service managers across the UK.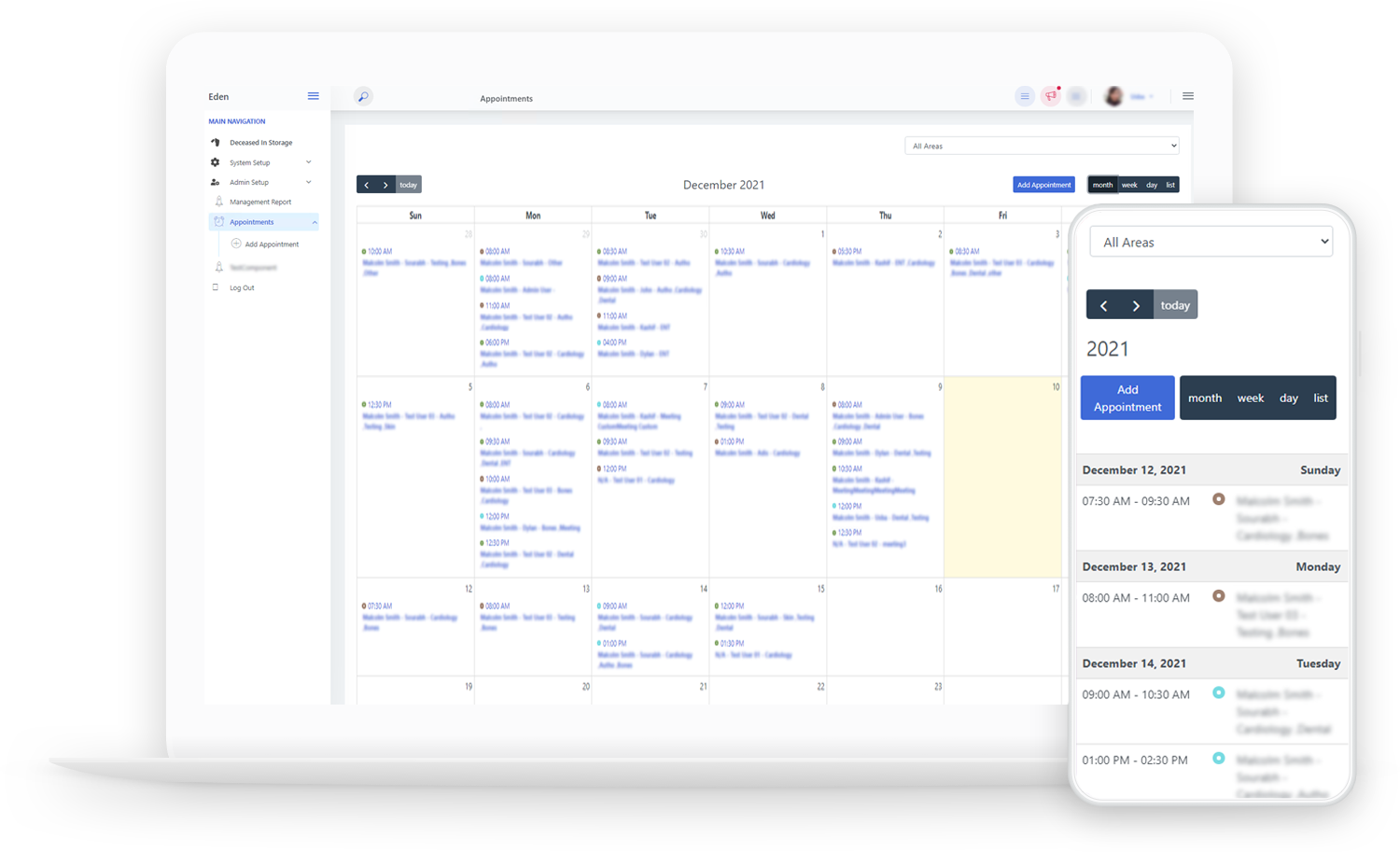 One Stop Solution
Many pathology packages bolt on a mortuary section as
an afterthought but nothing else on the market provides
such a feature packed solution like EDEN.
The Software is tried and tested and has been continually
expanded since it's initial rollout 10+ years ago.
Multiple Benefits of EDEN Software
Secure
EDEN is secured with Azure Firewall Premium (Including IDPS)
Paperless
EDEN is intended to replace your current paper filing systems.
Release Control
EDEN records Coroner's referrals, examination and notes.
Full Audit Trail
EDEN tracks each patient at every stage of the mortuary process.
System Integration
EDEN can integrate with your hospital system, data or web services.
Coroners Information
EDEN records Coroner's referrals, examination and notes.
Capacity Management
EDEN is aware of each fridge location, size and status.
Diary management
EDEN includes comprehensive diary management.
Centralised
Eden replaces paper and spreadsheets providing centralised repository
HTA compliant
Fully compliant and auditable, ensuring next of kin wishes are followed.
Examiner Scrutiny
Medical Examiner's "Advice and Scrutiny ME-1 form"
Barcodes
EDEN is fully compatible with bar code reader software.
Runs on tablets
Eden is platform independent and runs on iOS and Android.
Management Reporting
Generates reports for day to day management and ad hoc enquiries
Property Control
Logs and tracks patient property including who and when.
Auditable
Tracks each patient's progress and actions of each staff.
Correspondence Logging
Eden can dramatically reduce manual data entry and data errors.
Data Retrieval
Full search capability for each field by date, task and person.
EDEN Cloud Platform 
EDEN Software runs in Microsoft Azure Cloud and is available on fully managed SAAS model.
Platform is fully managed and supported with full daily backups.
Eden replaces paper Registers, numerous Excel spreadsheets, paper forms, numerous intra-departmental phone calls providing a simple to use centralised data repository for all Mortuary and Bereavement needs. System is accessible by everyone at the same time.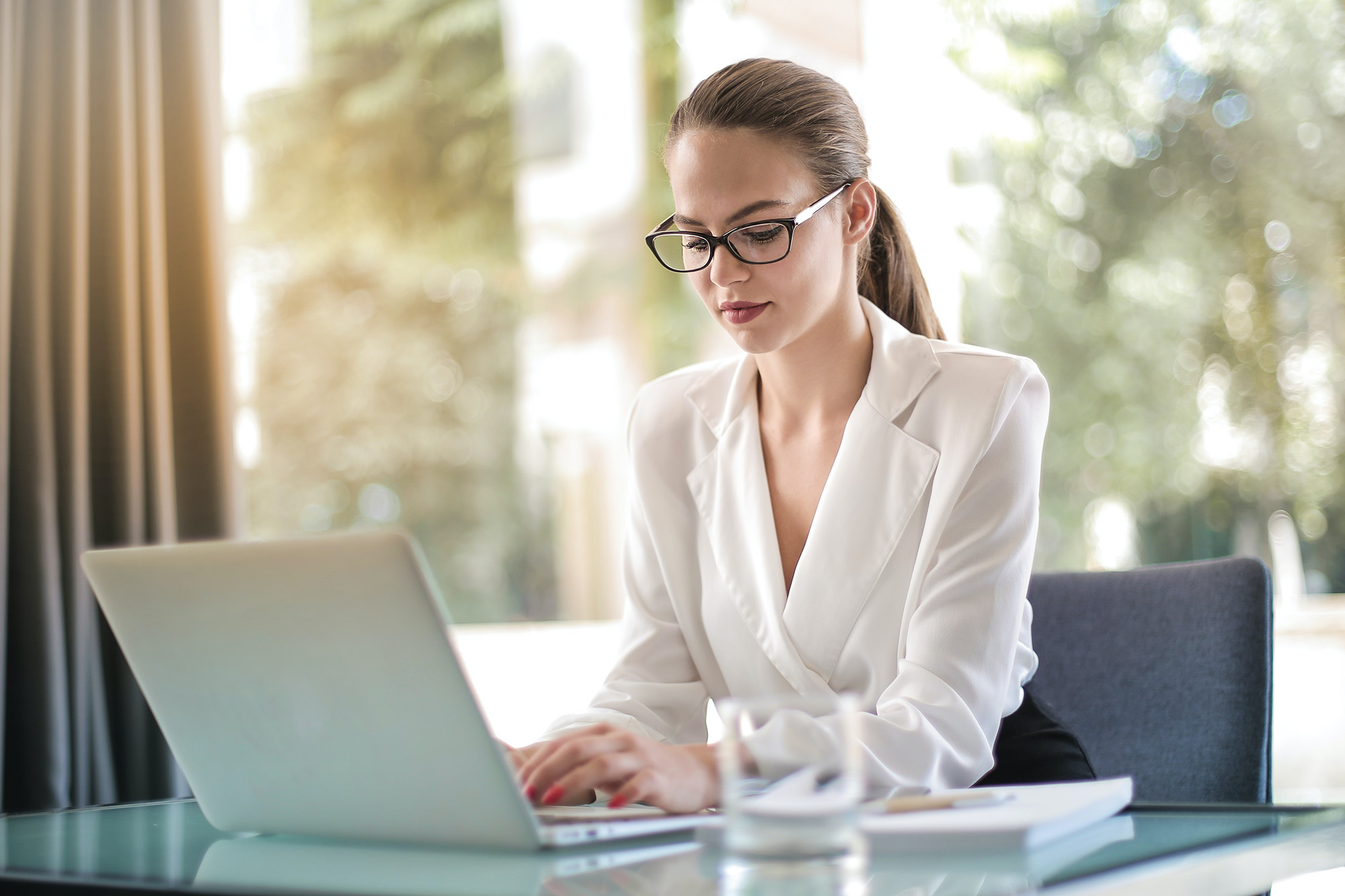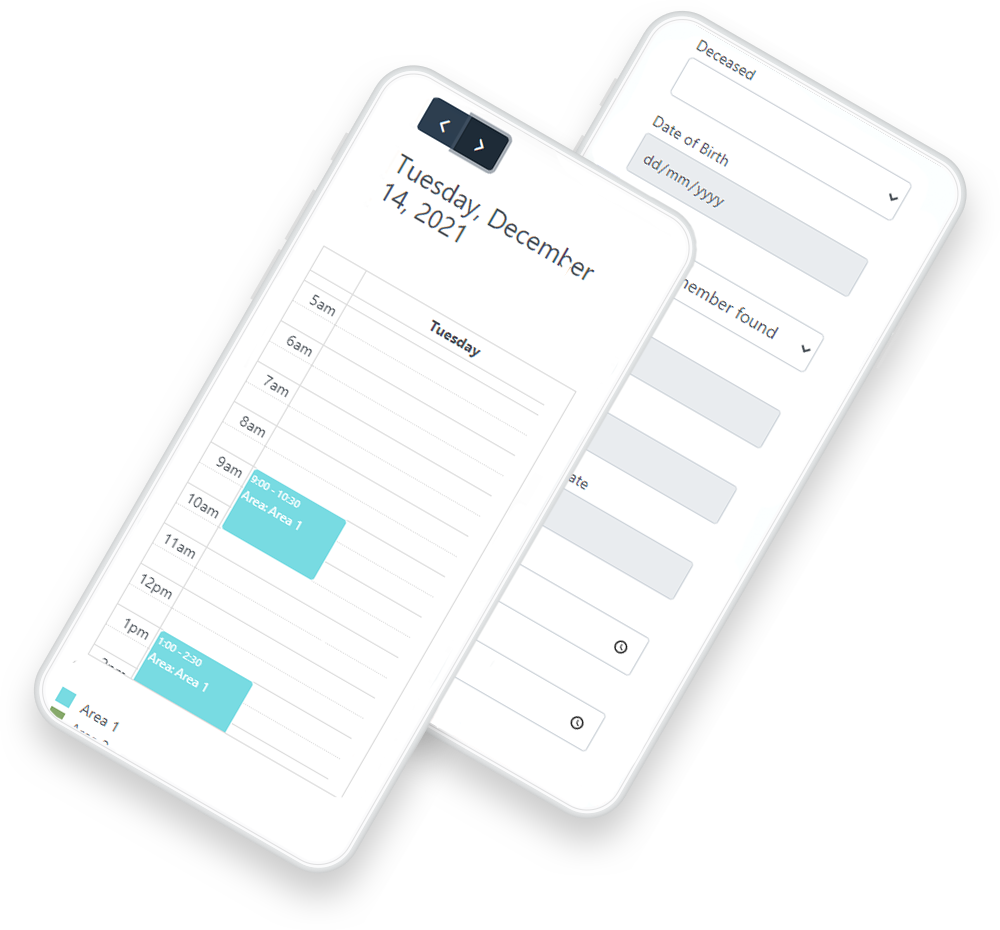 Available Online and on Mobile Devices
Because EDEN runs on cloud platform, it is accessible on all devices. Security is guaranteed with multiple factor authentication or trusted IP whitelisting. 
EDEN is Far More Than Just Recording Storage of Patients
Nothing else provides
such a feature packed solution
Efficient and integrated
Compliant and approved
Data retrieval in an instant
Professional support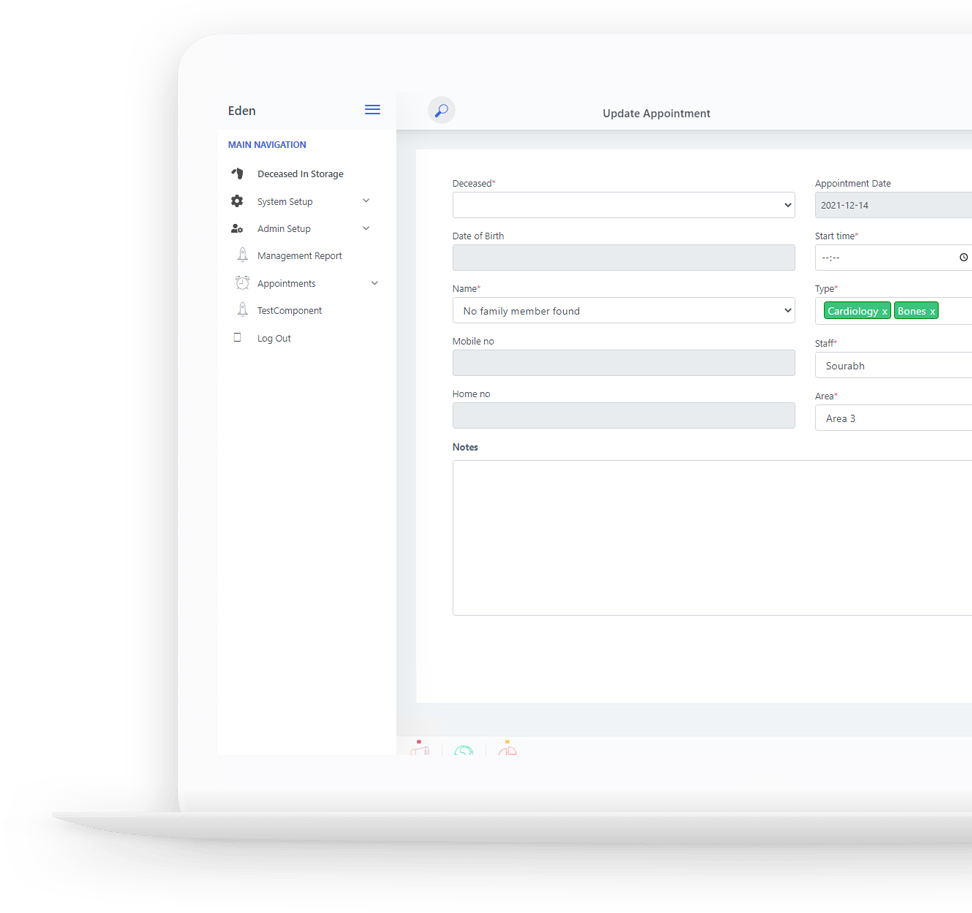 NHS Trust EDEN Commendation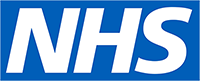 James Paget University Hospitals NHS Foundation Trust engaged tine services of Purple Matrix to realise the benefits of its Eden mortuary and bereavement services software solution.
Our highly-regarded mortuary team aspired to move away from the inherent data quality risks and limitations associated with paper-based processes. Management of the mortuary pathway, including pathological specimen tracking and supporting families, requires the very highest levels of data precision. Eden proved to be the perfect solution.
From the outset, Purple Matrix delivered a high level of commitment and focus to ensure our implementation was a success. From initial engagement and design through to problem-solving and go-live, Dylan and Kashif provided exemplary customer care, expeditious communications and were pleasure to work with.
Purple Matrix's Eden application has simplified the complexity of the mortuary pathway. The Trust is now in the best possible position to meet its governance obligations and to ensure the wishes of the deceased and their relatives are fully and sensitively discharged.
EDEN is an extremely useful tool which helps minimise data entry and duplication of effort between departments.
From the moment I saw EDEN's capabilities I knew that we would cut down on data entry and produce quality management information, which has been the case.
EDEN's professional support and back up provided by Purple Matrix given their experience of real time trading platforms in the City is superb.
Let's Get Started
Nothing Else on The Market Provides Such a Comprehensive Solution Like EDEN